Friday, May 27th, 2016
We think our new champagne window is just as effervescent  and sweet as the French beverage. We've come upon this conclusion after studying the reactions of passersby on the sidewalk. It's all math really…. Pedestrian speed x fashion stimuli / dopamine increase = goodness.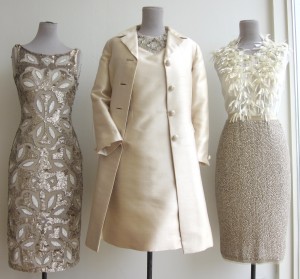 L~ Contemporary hand sequined dress, size 2-4. Sold
C~ 1960's 2pc silk dress and jacket. Size 10.
R~Prabal Gurung cream silk blouse with ribbons and mink pom pom detail, size 10. Worn with an Oscar de la Renta skirt, size 10.