On display
Summer whites are on full display with an AMAZING vintage Halston sarong gown front and centre. She was born in '76 but transcends time with her effortlessly stylish appeal, don't you think?  On another note; have you peeped our Instagram lately? We've posted some great bags there over the past couple of weeks, you should really check them out⇒ just click here.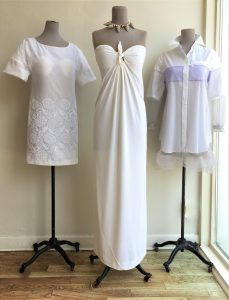 L~ Blumarine white cotton dress with crystals, size 0-2.
C~1976 Halston sarong gown, size 4-6 sold. Haskell shell necklace.
R~Prada cotton shirt dress with organdy overlay, size 4-6.