Friday, November 28th, 2014
It's been awhile since we've given you a glimpse into our vintage Chanel department. We figured no better time than the 'present' as most of us are trying to figure out what to give to those special ladies in our lives. Here are our suggestions and as always, please contact us for more details.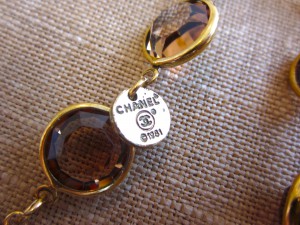 Chanel 1981 topaz chicklet sautoir, measures (a flappin') 62″ total length.
Chanel 1990's silk chiffon jewel print wrap/scarf. Measures 54²". Sold
Chanel 1990's deep chocolate brown quilted lambskin vanity/purse. Measures 6½" x 6″ x 8½".
Chanel 1990's brown caviar leather vanity/purse. Measures 5¾" x 5″ x 7″.
Chanel 1990's black lambskin vanity/purse as-is. Meausures 6″ x 5″ x 6½".