Thursday, December 28th, 2017
Behold, our New Year's shimmering silver display. Thank-you all for a fab 2017, it was a blast! We look forward to seeing and dressing you for all of your 2018 events! So stay safe but remember one thing; fashion over function!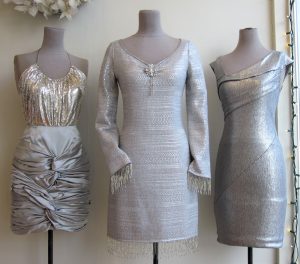 L~1970's metal mesh backless top, size S. Burberry silk skirt, size 6.Sold
C~St. John Couture knit dress with crystals and fringe, size 8.
R~Donna Karan sequin stretch dress, size 0-4.