Grey Gucci and Cucinelli dresses flank our to-die-for 1970's YSL maxi skirt and blouse set. It has so much going for it! From the gauzy cotton print fabric to the tiered skirt to the peasant top and it's in pristine condition. Open this weekend if you want to say hi to her in person but closed on Monday for Labour Day.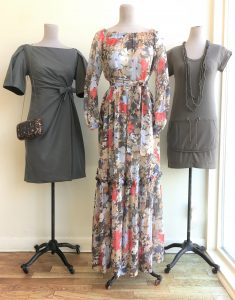 L~Gucci grey wool dress, size 6. Fendi lucite hard shell clutch/shoulder purse.
C~1970's YSL gauzy cotton print 3pc skirt, blouse & belt set. Size 2-4.
R~Brunello Cucinelli jersey casual dress, size S.