Friday, June 21st, 2019
If you like getting tied up in the bedroom but need to tone it down (somewhat) in public then check out these S & M inspired looks. They are sure to whip up a fashion frenzy amongst your circle, especially that 1950's centre dress. Betty Page would definitely approve!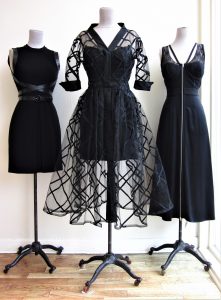 L~Gucci jersey dress with attached leather wrap belt, size S sold.
C~1950's tulle and ribbon over dress/shell, size 2-4. Dolce & Gabbana skirt, size 42. Dolce & Gabbana silk corset top, size S.
R~Alexander Wang corset dress, size 8 sold.