Here's a dollop of winter white and creams to help you look forward to the spring season. Our inner boho chic meter is off the charts with that centre 1960's tapestry coat! But what really has our crank turning is the Courrèges gown on the right. It's clean lines are a minimalist's dream, a sexy minimalist's dream that is. You see there are side slits on this gown, thus giving your gams some attention. Oh André, you thought of everything!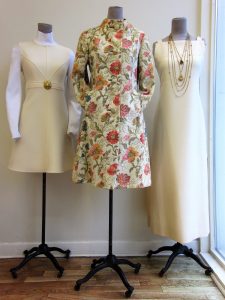 L~Louis Vuitton cream & white mod dress, size 8. 1960's lion's head brooch.
C~Bonwit Teller 1960's tapestry coat, size S.
R~1970's Courrèges 'Couture Future' cream wool gown, size 8. 1960's 5 strand chain & crystal necklace.