'Tis the season to wear luxe fabrics with lot of bling to brighten up your evenings with. Strike it rich in 18k gold paired with black for that contrasting look that says "I am the present" at your next party. See below for inspiration.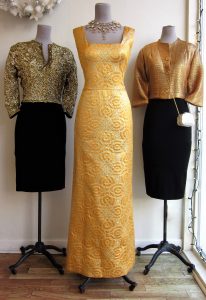 L~Pucci dress with lace bodice, size 6. 1950's hand sequined cardigan, size S sold.
C~Arnold Scassi 1990's gold brocade gown, size 8-10. 1960's KJL collar.
R~Narciso Rodriguez black stretch dress, size 6. 1950's gold braid jacket, size M. Leiber purse sold