Friday, May 11th, 2018
Arthur took the helm of the S.S. Meow Meow this week and used his creative flare in dressing the window. Whatcha think? I think I've got some competition now!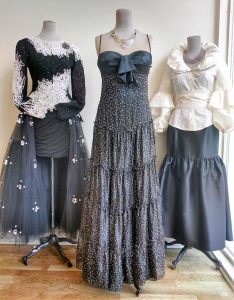 L~Oscar de la Renta jacket, size M. Belville Sassoon tulle bustle, size 2-4. Vintage crystal brooch.
C~Armani (black label) silk chiffon gown, size 4. Piannegonda necklace.
R~Escada poet sleeve silk taffeta blouse, size 2. Prabal Gurung silk skirt, size 4. Vintage crystal necklace.