Happy Canada Day weekend kittens! We will be here Saturday (10-5) and Sunday (12-5) but closed on Monday. Be patriotic AND sexy in one of these maple leaf red dresses, now on display in our window.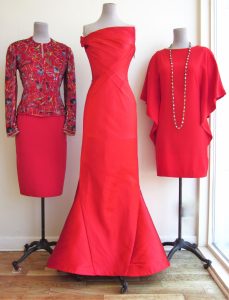 L~Armani black label hand beaded jacket, size 4. Micheal Kors (runway) dress, size 4.
C~Robert Danes silk corset gown, size 4.
R~Escada bat wing dress, size 6. 1940's long pearl and crystal necklace.