Thursday, December 15th, 2016
I felt it was only appropriate to follow up last week's Santa red window with this festive green one. Are you familiar with the line 'but not a real green dress that's cruel' from the Barenaked Ladies' tune If I had $1000000? Well this song has been on repeat in my head all afternoon while dressing the mannequins. I would like to disagree with this lyric as green is a flattering colour on many different skin tones. Also, in some cultures, it's considered a lucky colour to wear as it denotes money and good fortune. Besides anyways, this is coming from band members who named themselves after nude women! They have zero fashion podium upon which to stand and critic, in my not-so-humble opinion.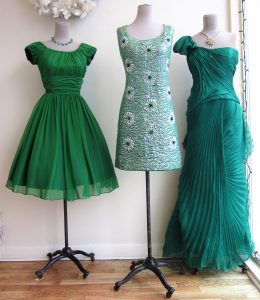 L~1950's silk chiffon dress, size 4 sold (Crinoline sold separate). Art Deco Czech necklace.
C~1960's hand sequin knit mini dress, size 16.
R~Vera Wang silk organdy gown, size 6. Haskell necklace.