Thursday, February 7th, 2019
Love is in the air and our window for Valentine's day. What could be more lovely than a pink wool bouclé Chanel suit? Well we've got two of them and the sweetheart on the right is couture from the 1950's. She comes with some provenance as well as she once belonged to a model that worked for the house of Chanel. Rumour has it that while Mlle Coco herself was doing a fitting on her that she actually pinched her nipple! Intentional or not we may never know, but love is love.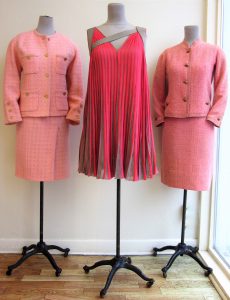 L~1980's Chanel wool bouclé suit. Jacket size S-M and skirt is a 0-2 sold.
C~Vionnet fuchsia and metallic taupe pleated knit dress, size S sold.
R~1950's Chanel couture 4pc suit, size 4-6.