Thursday, April 18th, 2019
This sparkly window is for all you magpies on steroids out there. How insane is that heavy metal mesh set in the middle?!  We've been waiting YEARS to get in one of these Whiting & Davis full outfits to showcase for you and now, here she is. TA-DAAAAAAA. Side note; we will be closed Friday April 19th and Sunday April 21st for the holidays. Happy Easter and Passover kittens.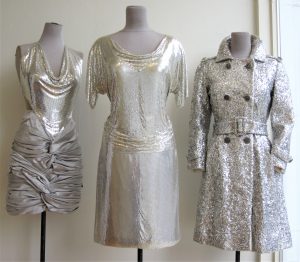 L~Burberry skirt, size 42, now on sale. 1980's Whiting and Davis halter top, size S.
C~ Whiting and Davis 1980's mesh top and skirt, size S-M.
R~1960's hand sequined trench coat, size S. Now on sale.