For your consideration; 3 classic Chanel flap purses all in black with gold hardware. If you've been waiting to get your hands on one of these bad boys, then here's your chance! Guaranteed to never go out of style. She'll be your go-to for years to come.
Chanel medium Diana flap in black lambskin and gold hw. Measures 10″ x 2¾" x 6″.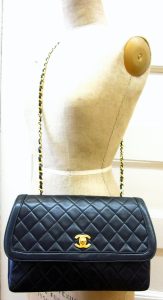 Chanel black lambskin flap purse with removable pouch and gold hw. Measures 10″ x 3″ x 6½". Sold
Chanel Classic Jumbo flap in black caviar with gold hw. Measures 12″ x 3½" x 8″, as presented.
Please contact us for more details.