Craving Chanel?
Well we have enough to satisfy your hankering for the beloved CCs. On today's menu is a smattering of the french delicacy, in both vintage and contemporary form.Let's start from smallest to largest items;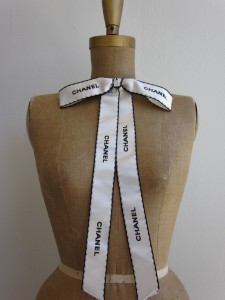 Chanel satin ribbon bow pin.1990's Sold
Chanel black velvet double breasted button corset top with chain straps. 1990's. Size 8-10.
Chanel 07P brand new crisp white tuxedo blouse with cream organza bow. Size 10. Sold
Chanel late 1980's navy and white bouclé houndstooth jacket. Size 10-12 Sold
Chanel black chenille stretch mini dress with pockets. Size 6-10. Sold
Chanel mid 1990's black silk dress with slash shoulders, pockets and bows. Size 10. Sold
Chanel 1990's black tiered tulle gown with bows. Size 4. Sold
Please don't hesitate to 'Contact Us' for more details.