Da Da Diors!
Two absolutely gorgeous leather Dior bags just hit the floor! These are both in pristine condition and are ready to rock your wardrobe by adding a pop of colour. Please contact us for more details.
Dior rare medium "Be Dior" with shoulder strap. Notice the leather wrapped charms!! Measures 10″ x 5″ x 8″.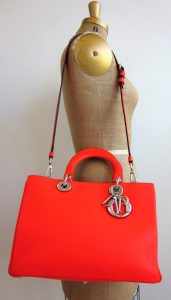 Dior medium "Diorissimo" with shoulder strap, lined in baby blue leather. Measures 13″ x 5″ x 8½".