On Tuesday January 28th my dear friend and co-worker Arthur Boduryan passed away suddenly from a heart attack. It was his 62nd birthday. He will be greatly missed by so very many people including his partner Kevin. Arthur was a special soul who lived every day to it's fashionable fullest. A kind person who loved helping people, he would always go the extra length to make you happy. You could not have asked for a more loyal friend, devoted employee and hilarious companion.  I consider myself very fortunate to have known such an incredible human being and will miss him beyond words.
His memorial will be taking place tomorrow, Saturday February 1st, at Turner & Porter funeral home. 2180 Hurontario St. in Mississauga between 3-6pm.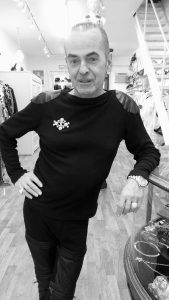 This window is for Arthur. I think it has the right amount of sex appeal mixed with flare that would have garnered his approval. Please note our modified hours; closed Sundays & Mondays. Saturday Feb.1~ 10-4. Thanks for your understanding during this difficult time.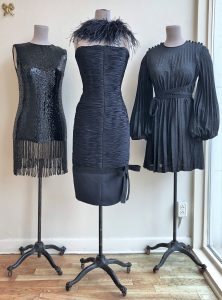 L~1960's hand beaded mini dress/tunic, size S.
C~Gianni Versace 1980's couture dress, size 0. Ostrich feather neck collar.
R~1970's glitter balloon sleeve pleated dress, size S-M