On display
This post is brought to you by the 1960's. It was a decade of big cars, smoking while pregnant and one income families. While those times are long gone some great things have survived, like these LBD's. Forever classic, they truly transcend time. 'Fashion fades, only style remains the same.'~Coco Chanel.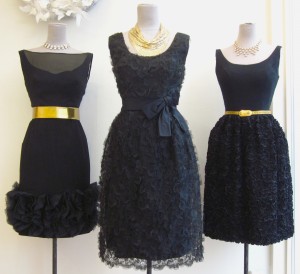 L~chiffon ruffle hem dress, size 6. Worn with an Oscar de la Renta gold leather belt and a 1950's crystal choker necklace.
C~ Ribbon lace dress, size 6. Worn with a 1970's mesh necklace.
R-Ribbon work dress, size 2-4. Worn with a 1930's brass belt and a 1970's crystal necklace.