Creamy frocks with golden threads rule our window this week. We love doing these white/cream/ivory trios for you brides-to-be, graduates and everyone else who appreciates them. Don't know if you noticed or not, but we skipped out on last week's post. Sorries… We were playing hooky in Costa Rica with some Piña Coladas and jaguarundis. But we're back now, fully  refreshed and ready to blow your socks off with some fantastic vintage for 2016! Stay tuned!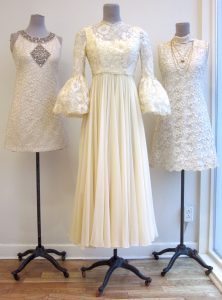 L-1960's hand beaded brocade mini dress, size 0.
C-1960's silk chiffon and lace dress with bell sleeves, size 0.
R-1960's ribbon lace dress with scalloped hem, size 6.