On display
This robin egg blue hue has us feeling fresh and optimistic! The colour splash of hydration to our eyeballs reminds us that spring is just around the corner. This season tends to usher in all of those events and parties, are you ready? Well, if you're not, our dresses are here waiting for you to touch them.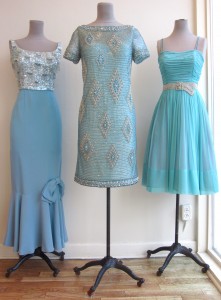 *click pic to zoom in:)
L-1960's mermaid gown with sequin bodice, size 6.
C-1960's jewel encrusted dress in a size 6-8.
R-1950's chiffon dress with rhinestone bodice, size 0. On sale! Paired with a 1960's rhinestone belt.