On display
We are so excited to showcase this current window! Whenever we get in a piece that sends our salivary glands into overdrive we become fixated on; a) how soon can we get it into the window & b) what can we display it with.  This week is no different. The drool worthy, dramatic sequined cape in the centre is none other than HALSTON. It hails from the 70's and will announce your arrival at any event, guaranteed.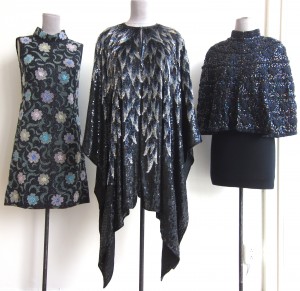 L~1960's hand beaded dress, size 6.
C~Halston cape, one size fits all.
R~1960's hand beaded cape, one size fits all. Paired with a wool Mugler skirt, size 2-4.