On display
Happy Chinese New Year everyone! Over the years we've come across some incredibly embroidered Chinese textiles and are always in awe of their fine embroidery. This week's window features two jackets that are great examples of this. The one in the middle would have been worn by a bride on her special day. We know this because of the phoenix and dragon on it which symbolizes the wife and husband. We date it to around the 1950's. Guessing by the hundreds of hours of hand stitching on it, this jacket would have belonged to a very affluent lady. Click pic to zoom in on this one of a kind gem!!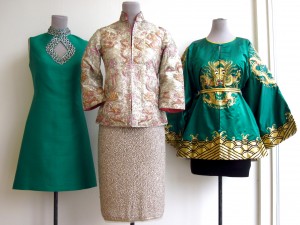 L~1960's silk dress with crystal cutout neckline. Size 10.
C~Oscar skirt, size 8-10 worn with a 1950's Chinese wedding jacket (comes with a matching skirt) size S.
R~1980's silk jacket with gold embroidered dragon, one size fits most.