How ravishing are these raspberry reds in our window? It's our Valentine's Day gift to your eyeballs, do they love it? Do they say 'Yes to the dress'? The pedestrians seem to slow/stop and stare at them, which is a good indicator considering the -127° weather lately. And to all of you reading this within close proximity to a hot & sunny beach, you chose the ideal week to not be in Toronto!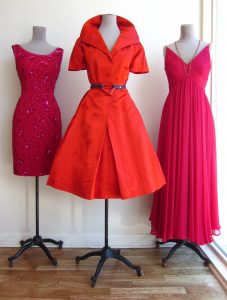 L~1960's hand beaded cerise crepe dress, size 6.
C~1950's butterfly jacquard silk dress, size 0. Worn with a 1980's Elsa Peretti belt.
R~1960's cerise silk chiffon pleated gown. Size 6. Worn with a 1970's red crystal necklace.