Our fresh window has 3 dollops of cream but with 0 calories! How sweet is that?! We have been getting alot of you brides through as of late so we though we should do an 'alternative bridal' theme for this week. Whether it's a tack filled Las Vegas eloping (white lace 60's jumpsuit anyone?), a chic barn wedding in the country or a highbrow affair in the Swiss alps; we do have options for you.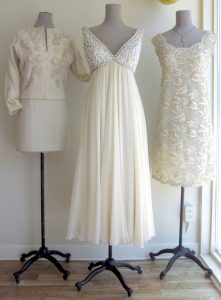 L~ 1950's hand embellished wool cardigan, size smedium sold.  Worn with a Herve Leger mini, XXS.
C~1960's double layer silk chiffon gown with pearl and crystal encrusted bodice. Size 6.
R~1960's Swiss couture hand made lace dress. Size 6-8. Worn with a Deco crystal necklace.