On display
I'm releasing my inner dominatrix this week (not really) by giving you a black leather filled window. Fun fact; I cut my teeth in many a retail shop before opening the Meow Meow and Danier leather (RIP) was one of them. Therefore I may know a thing or two about skins. One things for sure, I can tell you that all three items featured here are made of fine supple lamb leather. Only the best for you kittens!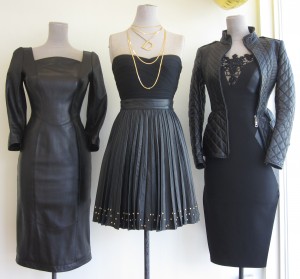 L~Thierry Mugler 1990's black leather dress, size 4-6.
C~1980's black leather pleated and studded skirt, size 0-2. Worn with a Leger top, size XS and a Dior necklace.
R~Contemporary Mikael D leather and lace dress, size 2-4. Worn with a Burberry London quilted leather peplum jacket, size 0-2.