We didn't quite know what to call this colour…… Ice blue, steel blue, slate blue or periwinkle blue? We decided to settle on powder blue, as it's soft with a hint of grey. The Prada dress on the left is one of ten incredibly beautiful dresses that we received in this week. We hope to feature them all for you  in the window before they sell. There are some really exquisite pieces from houses like Chanel, Oscar and Valli just to name a few. Pop in soon for a peek!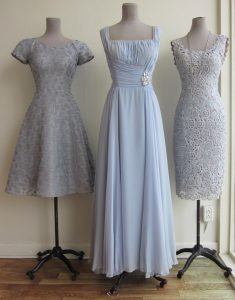 L~ Prada appliqué on organza dress, size 4-6. Sold
C~ Ceil Chapman (Marilyn M's fav)1950's  silk chiffon gown, size 6.
R~ 1960's hand crochet raffia dress, size 4-6. Worn with a 1970's crystal necklace.