On display
Allergy and wedding sneazon (typo, it's staying) is upon us. If you suffer from allergies like moi then you'll be wanting to scratch out your own eyes, plug your nose with anything in reach and praying that another hive doesn't pop up.
Ailments aside, we hope you're not suffering through dress shopping.  We've heard how hard the struggle is out there and we have your remedy. Unplug yourself from the fashion mediocrity by checking out our options below⇓  New items arriving in weekly. Why don't you stock us physically,  or on Instagram for the freshest selection?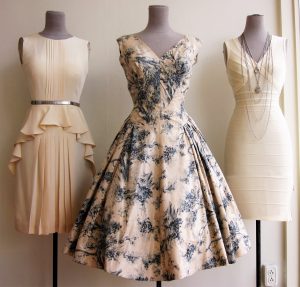 L~ Prada silk peplum dress, size 6. Worn with a 1970's silver belt.
C~ 1950's couture silk print dress, size 4.
R~Hervé Leger bandage dress with side slit zippers, size XS. Worn with a 1960's 5 strand necklace.