On display
Please pardon our centre Judy, she had a liquid lunch today….. Nothing beats the heat that we've been experiencing lately like a crisp cotton lace frock. Stay calm & cool at your next event despite mother nature and/or your mother-in-law.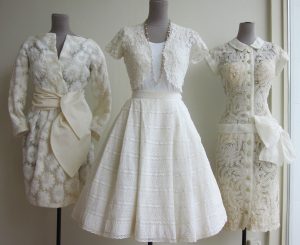 L~Giambatistta Valli daisy embroidered organza dress and sash, size 4-6.
C~1950's lace skirt, size 4-6 (worn with a crinoline). Victorian hand made lace bolero, size S. 1970's pearl and crystal necklace.
R~1950's Samuel Winston ribbon lace dress, size 4.