On display
Our carnations and daisies are in bloom, how's your garden growing? Imitate your surroundings this summer in a feminine floral print frock. Allergic to pattern? We have a vast assortment of fresh arrivals that just hit the floor this week. Many new designer bags, Hermes scarves and accessories too. Beat us to the punch and see them all in store before they even hit our Instagram!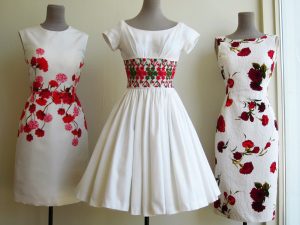 L~Giambattista Valli carnation print silk dress, size 8-10. *New with tags*
C~1950's cotton embroidered dress, size 00. Crinoline sold separately.
R~ Oscar de la Renta cotton jacquard dress, size 8.