Burst onto the scene in a riot of colour & print! We have some dramatic long skirts and gowns that have recently hit the floor. Lots in in various sizes, eras & designers. So grab your friends, moms, aunts, cousins, grannies & sisters for a day of multi-generational fashion fun at TCM.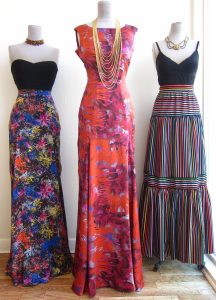 L~Erdem silk print max skirt, size 8. Herve Leger top, size XXS. Louis Rousselet 1950's choker.
C~Erdem silk print gown, size 8. 1960's Grosse 10 strand necklace.
R~1970's cotton stripe maxi skirt, size 2-4 Sold. Prada grosgrain top, size 4-6. Victorian brass locket necklace.