On display
You don't need to wake up or pinch yourself because this turquoise dream is real!  All 3 dresses have dreamy labels too; Versace, Chanel and Leger. We are getting feedback lately that many of you are finding out about the Meow through this blog. Are you a follower that has yet to pop in and say hi? If so, what are you waiting for? We have many fab items that don't even get a chance to be showcased online because they get snapped up by one of our regulars! Fresh picks arrive almost daily kittens. So don't deny yourself, it's not good for your health.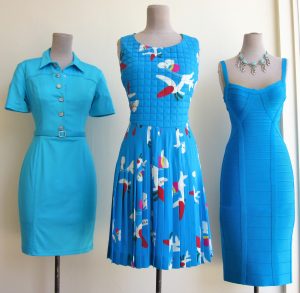 L~ Gianni Versace Versus 1990's stretch dress with mother of pearl buttons. Size 6.
C~ Chanel silk print dress circa 2000. Size 12. Sold
R ~ Hervé Leger bandage dress with back zip. Size S. Worn with a 1960's crystal & glass necklace.