On display
This week's display is filled with busy greys, and we don't mean of the hard working extraterrestrial kind….. Although we are one to enjoy a good conspiracy theory here and there, things have us too busy lately to be indulging ourselves. This little festival called TIFF has hit our city and the Meow Meow is abuzz. Have a fun weekend!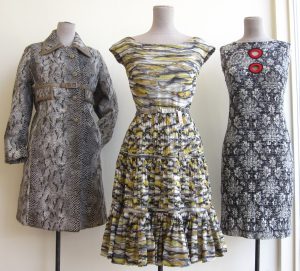 L~ 1960's printed faux fur coat with leather trim, size S. Sold
C~ 1960's silk chiffon dress size 2-4 worn with a 1970's Miss Dior logo belt.
R~Louis Vuitton wool sparkle knit dress, size M.