On display
Our new colour blocked window has day, evening and everything in between. So much new fall stock flowed in this week that our heads are spinning! Burberry trenches, 60's knit day dresses, 70's sparkle clingy knit evening gowns, the Elie Saab below and so much more!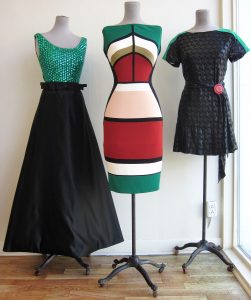 L~1980's black silk satin ball skirt, size 4-6. Chanel black bow belt, size 8-10. 1960's sequin knit tank, size S-M.
C~ Elie Saab knit dress with 3/4 length sleeves, size 8-10.
R~ Escada Sport houndstooth dress with belt, size 2-4. 1940's studded bakelite brooch.