On display
We are happy with how this black and cream window turned out. It's sweeter than an Oreo, in our opinion. And it's a real mashup of old and new. Can you tell what's vintage from contemporary? We hope not, as good fashion should always transcend time. Mix and match new and old this autumn to cut an original look that keeps 'em guessing.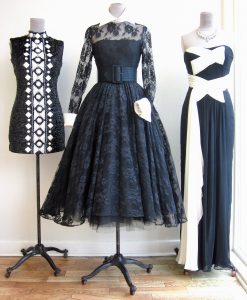 L~1960's hand embellished mini knit dress, size S.
C~Victor Costa late 1970's black lace dress with organza collar and cuffs. Size 2.
R~Marchesa Notte silk chiffon strapless gown, size 4-6. 1960's pearl and crystal necklace Sold.