We've been waiting a couple of weeks to do this window for you all. The reason being is that we didn't have a 3rd item in the right blue to make it work until that Marilyn dress on the right came in. And then, voilà- display complete. Hope you like it as much as we do!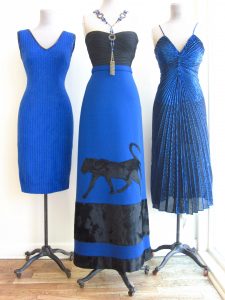 L~1960's wool knit hand beaded dress. Size 8-10.
C~ 1970's wool maxi skirt with panther appliqué, size 2-4. Leger top, XS. Deco belt worn as a necklace.
R~1970's disco pleated dress, size 8.