On display
Label lovers behold; your dream display has arrived! If your weakness is Chanel and/or Alaïa then you may be frothing at the mouth a little right now due to an overdose. It's coming at you strong this week, very à la circa 1990's styles. We've got what your fall wardrobe has been craving; classic staples that will carry you from day to night.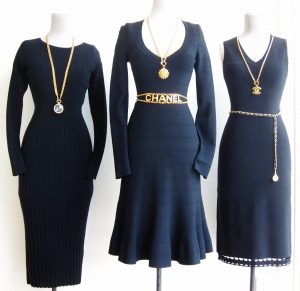 L~Chanel knit dress with back button vent, size 36. Chanel 1980's loop necklace.
C~Alaïa knit dress with fluted hem, size L. 1980's Chanel logo belt and starburst necklace.
R~Alaïa knit dress with scalloped hem, size 38. Chanel 1980's CC necklace and leather woven chain & coin belt.