On display
Veering away from our usual frock filled windows, we are focusing this week on outerwear instead. In particular; the Burberry trench.  Ever wonder why they are called 'trench' coats? Well, it's because Burberry (or Aquascutum-the jury is still out on this) developed the coat for use by the British and French soldiers fighting in the trenches during WWI. Now you know! Get ready to fight the elements this fall and dodge those drops in a classic piece that is tried and true.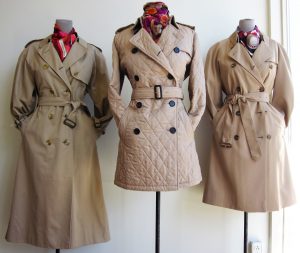 L~1970's Burberry trench, size M. Dior 1970's silk scarf.
C~ Contemporary Burberry London quilted trench, size M Sold. 1970's Pucci silk scarf.
R-Contemporary Burberry London trench with removable wool lining, size M. Hermes silk scarf.