On display
So our Golden Girls window last week went a little viral over on our Instagram account. Don't know the ins and outs of why or how but we had over 479 likes on it. That's huge for us! I'm hoping this Santa red display has the same effect on people. But alas, I have a confession to make… As soon as the Dior on the left got wheeled into place it got snatched up by one of our regulars.  If you're a Dior loving size 2-4, so sorry for the tease.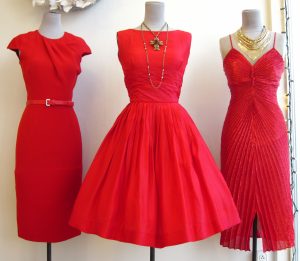 L~ Dior red day dress with leather belt, size 2-4. Sold
C~1950's red taffeta dress (crinoline sold separate), size 0-2. 1940's brass and crystal cross necklace. 1970's brass chain long necklace with pearls and crystals.
R~ 1970's pleated Marilyn dress, size 6-8. 1970's gold mesh necklace sold.