On display
Ta Da! Here it is, our Christmas window filled with sugar plum sweetness to dance in your head. Arthur & I hope you and yours have a warmly wonderful holiday weekend. May you burn off those bon bons with lots of laughter surrounded by good friends and family. We will be closed this Sunday and Monday.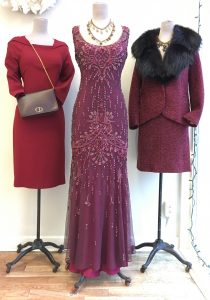 L~Roland Mouret fitted dress, size 12. Dior 1980's purse sold.
C~Lorcan Mullany 1990's hand beaded gown (sleeves pinned back), size 8. 1930's brass necklaces.
R~ 1960's wool suit with fox collar. Skirt size 0, jacket is a small-medium. 1930's brass necklace.