On display
Velvet~ whether you're a fan of it or not, it's definitely on trend right now. It is oh-so-soft to the touch and oozes luxury out of it's fuzzy little pores. And the colour! If you want a saturated tone it doesn't get much better than velvet. This week we celebrate the royal textile in black. Check out the side train that attaches to the sleeve on the centre Chanel gown. Want to bring the drama? Then this is the gown for you. It has a slit on it's right side so you can show your gam off whilst strutting. The silk chiffon would look great on the dance floor twirling for all your haters.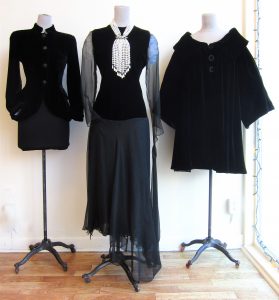 L~Giorgio Armani jacket, size 4.
C~1970's Chanel gown, size 8. 1960's pearl necklace.
R~Giorgio Armani opera coat, one size will fit most.