On display
Inject your wardrobe with some rich golds that won't break your wallet like the carat kind. That centre lacy number won't last too long, so don't hesitate if it's calling your name. Or you could let your inner bohemian reign supreme in that embroidered 1960's caplet on the right. We really have so many options here for you. Treat yo self!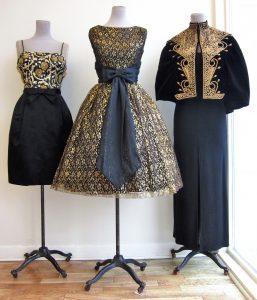 L~1960's hand beaded silk dress, size 0.
C~1950's lace dress, size 2. Crinoline sold separately.
R~1960's velvet caplet with gold embroidery, one size Sold. Karl Lagerfeld carwash skirt, size 0.