On display
If you were to build a time machine and turn the dial back to spring time in the 1960's, then this may be what you see. We're throwing you a curve ball this week with some contrasting colours and textiles. Spring is about to be sprung and we are ready for it! So weather (pun intended) you're a wall flower or a vibrantly loud specimen, we are here 7 days a week to dress you accordingly.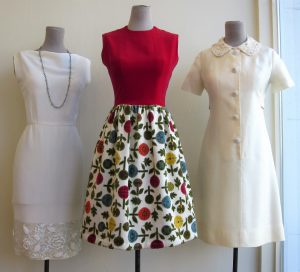 L~1960's hand beaded hem dress, size 8. Worn with a 1940's poured glass and crystal necklace.
C~1960's velvet and tapestry dress, size 2-4.
R~1960's hand beaded button front dress, size 6-8.