It was a long winter, so now it's time to burst out of that conservative cocoon and be the social butterfly that you are! Be greedy and steal all of the attention in the room  in one of these vermilion red dresses.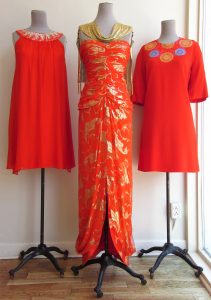 L~1960's chiffon dress with sequin neckline, size 6 Sold
C~Travilla 1980's strapless gown, size 8-10. 1970's mesh scarf.
R~Peter Pilotto contemporary dress with embroidered neckline, size 8. Tags on Sold