On display
Awaken your eyes with these prints gone wild! This ruckus of colour is a friendly reminder that patio season is coming soon. How chic would you look sipping on your fav drink in one of these little boho numbers? I think very.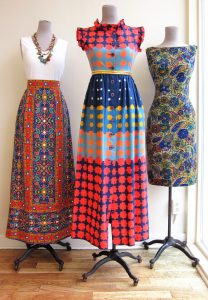 L~1970's cotton studded skirt, size 2. 1970's chain & charm necklace. Deco Czech cube glass necklace.
C~1970's French cotton print dress, size 4 Sold. Schreiner belt.
R~1960's fine wool print dress with rhinestones, size 4.