On display
These soft yellows are springing us into our long weekend. We have Queen Victoria and her birthday to thank for the extra day off on Monday.  Ever wonder what Vicky thought of the colour yellow? Well, from our very brief research we discovered that her drawing room was decorated all in amber tones. So we're going to take a long shot and say that her late Majesty would approve of this display. Enjoy your weekend!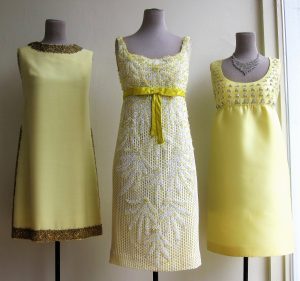 L~1960's light wool A-line dress, hand beaded. Size 6-8 Sold
C~1960's hand beaded cotton dress, size 0-2.
R~Prada crystal embellished empire waist dress, size 6. 1950's crystal necklace.