On display
With the lushness of the season all around us what better way to adapt to the environment than in emerald green? These dresses and many other fresh arrivals have hit the floor this week, most being in the jewellery department.  How REGAL is that Dior pearl collar on the centre mannequin? It's 15 rows of decadent pearls curve up the neck guaranteeing a dramatic look with complements sure to follow. You absolutely must click to zoom in on this piece!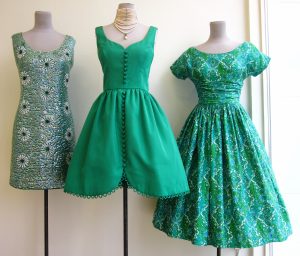 L~1960's hand sequined mini dress, size 16 Sold.
C~1980's taffeta buttons and loops dress, size 6. Dior pearl necklace.
R~1950's cotton batik print dress, size 6.