On display
Aren't these red and white dresses just juicy?!? I do believe that they were made for sipping sangrias in. How to-die-for-summer-chic is that runway Dolce & Gabbana piece in the centre? From the peppermint stripes to the lady sitting on the waistband holding a sequined beach ball to the 3-D beaded starfish, to the EVERYTHING! It's summer 2017, in a dress. I hope you enjoy this window as much as I enjoyed putting it together.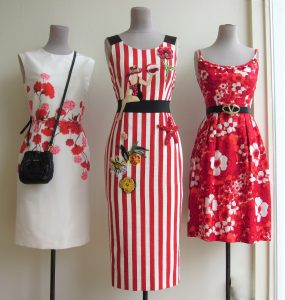 L~Giambattista Valli silk carnation print dress, size 8. Prada washed leather cross body purse.
C~Dolce & Gabbana runway dress, size 4.
R~1950's cotton print dress, size 0. Valentino leather belt, size S.