On display
So I realized at the beginning of this week that I should have saved last week's red and white window for tomorrow, Canada day! I just got so carried away with looking at that gorgeous Dolce & Gabbana striped piece that I jumped the gun.  Oh well, as they say, hindsight is 20/20…. Either way, I have a whole new freshly frocked window for you to lay your eyes upon. All the pedestrians are bee lining straight to the one on the left, it's from the 1960's and full of flower power. Click to zoom in on it's exquisiteness!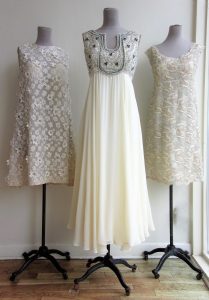 L~1960's cotton organza A-line appliqué dress, size 6-8.Sold
C~ 1960's silk chiffon gown with hand beaded bodice. Size 4.
R~1960's Swiss metallic lace dress, size 6.