On display
I'm kinda super pumped up to showcase this navy and white window to you for a couple of reasons. But first I should express my diplomatic love for all three of these looks. Like children, they are all special in their own way.  Now that said, we all have our favorites…. Mine just happens to be that 1970's Roger Freres in the centre. It's so epically chic! From it's tank style top to it's modern polka dot design to the fabric itself. I researched/googled to try and find out what exactly this fabric is called but to no avail. It's comprised of a overcast stitched piping (?) that is looped and then sewn all together.  If you're a textile geek like me and have any idea as to what it's called, please let me know. Just click the pic to zoom on in.
My second fav item in this week's window is that Lanvin 1970's lucite necklace on the left. We've only had 3 Lanvin modernist pieces through the shop in the past 11 years, so it's truly a treat. What's your eye drawn to?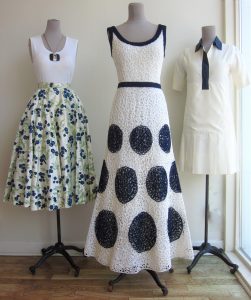 L~ 1950's flocked floral skirt, size 0. Lanvin 1970's modernist lucite necklace.
C~Roger Freres 1970's polka dot dress, size 6.
R~Prada silk, "tennis anyone?" dress, size 6 sold.