Cream and black dominate our texture rich window this week. If you have a black tie event coming up then take a gander at that tux style dress on the left. It's masculine chic magnifique! A pop of colour would be a nice contrasting addition to any of these looks. Perhaps a indigo patent leather pointy pump or simply a punchy red lipstick would do. FYI, we just did a round of markdowns in the back sale room so c'mon by and snag yourself a deal.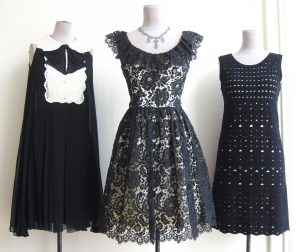 L~1960's tux style chiffon dress with cordé lace collar. Size 6-8 sold
C~1960's lace dress, size 6. Dior crystal necklace.
R~Chanel crochet dress, size M.